Every day, more and more people make purchases in the most convenient way possible – without leaving their homes. The growth of the Global Network has allowed entrepreneurs to create an eCommerce website all by themselves and trade their products.

If you decided to start your business online, there are several things to consider. Namely, the choice of platform or hosting can be time-consuming and a bit challenging
So, in this article, we will find out the easiest ways to develop your eCommerce website from scratch. In this piece, we will cover two popular ways to create an eCommerce website, which are WooCommerce and Shopify. Also, we will do some pros and cons.
Why do you need to start your business online?
Here are some of the advantages:
By creating eCommerce websites for your online business, you may help customers in making purchases remotely at their preferred time;

An online store may help a company's sales and profits substantially. Without the overheads of a physical business, an online store may be open twenty-four hours a day, seven days a week.

Rent, equipment, and maintenance are all things that ECcommerce platforms may help you save money on. You just have to pay for a lifetime of eCommerce website creation, a domain name, and yearly hosting, which are all reasonably priced.
How to build an eCommerce website?
From a technical point of view to create an online store is to:

Register your own domain name

Choose your website builder

Select a theme and publish photos and product descriptions

Add all relevant web pages for your site ( About Us, Contact, Products, etc.)

Customize it

Set payment processing

But, not so simple as that. Choosing a platform is a crucial step in building your online store.
And let's dwell on this in more detail.
CMS and platform
To build a truly functional and user-friendly eCommerce website, you must choose a suitable platform or CMS for your current needs. This will determine how you manage the products and orders of your online store, how you receive order notifications.

So, what is CMS, or Content Management System? CMS is a web program or information system used to organize and provide a process for creating, managing, and editing site content.
Luckily, there are tons of tools out there to create an online store. You have the freedom to use open-source solutions and ready-made self-supporting solutions. The main difference between the two is that you must have at least minimal programming skills in the first case. However, you get limitless possibilities for customizing the site. The second option is more prevalent among non-programmers. Such online store builders have all the essential features for the online shop to work. These include the user's cart, payment methods, product catalog, etc.
Shopify vs. WooCommerce. Which should you choose to run your eCommerce website?
Choosing the most refined platform may appear to be a difficult task. Shopify and WooCommerce are the world's two most popular eCommerce platforms today, each with its own set of advantages and disadvantages.
When deciding between the two, keep in mind some crucial criteria like cost, simplicity of setup and usage, payment gateways, and integration opportunities.
So, what is each company's market share? In 2021, 1.59M websites are using Shopify for their eCommerce websites. Meanwhile, 3.89 million merchants' websites are powered by WooCommerce.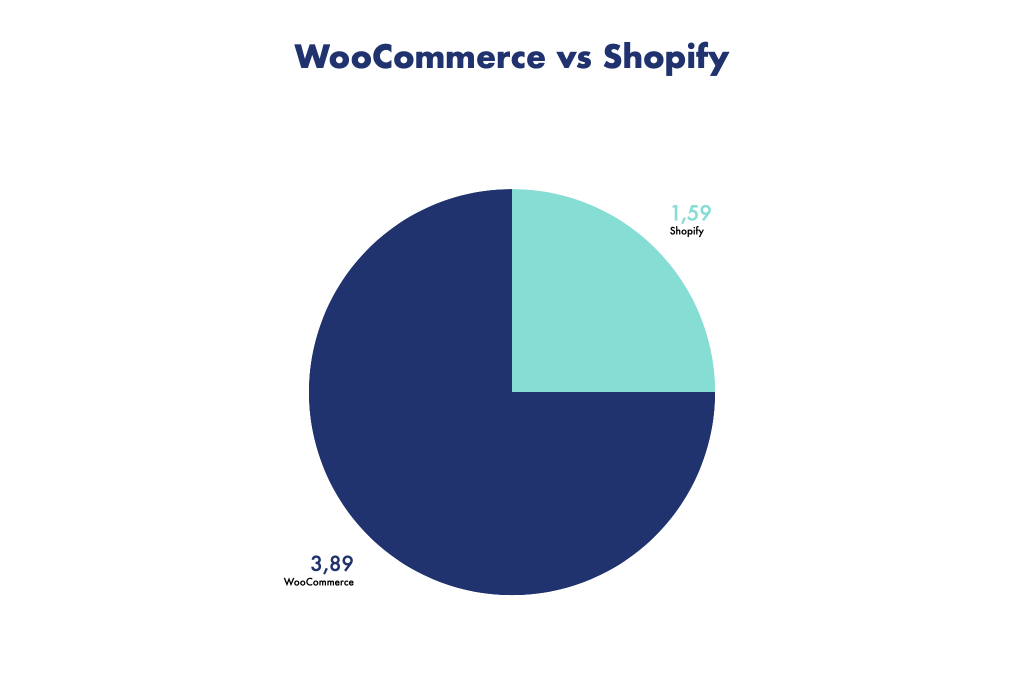 It can be seen that WooCommerce has more eCommerce websites than Shopify.
Let's look at some of the reasons for this.
Shopify
Shopify is a software development company for online and retail stores. It is a self-hosted solution, which means your shop can be up and running in minutes with no additional software to install.
Main features:
Fast setting up
No technical knowledge or coding skill required
1000+ free and paid themes
Shopify themes include newsletter integration, notebooks, quick product view options, zoom capabilities and 360-degree views, full control over settings, mega menus, social sharing, and more.
SSL certificates are provided
An SSL certificate protects your customers' data including billing information, bank card numbers, logins, passwords, and email addresses, from being intercepted.
Responsive, mobile-friendly design
You can use your own domain name
Easy customization
Integrated SEO
Shopify has integrated SEO features like image optimization, heading, alt and meta-tagging, and product descriptions.
Built-in blogging feature
Detailed reports and site analytics
Product options, reviews, discounts, etc.
Integration with marketing tools
Shopify Pricing:
Basic Shopify – $29 USD/mo
Shopify – $79 USD/mo
Advanced Shopify – $299 USD/mo
A domain name, SSL certificate, and web hosting are included in each of these plans.

You learn more about the Shopify plans here.
Shopify payment methods
Platforms offer many payment options that you can use to receive payments from customers. It has its payment solution called 'Shopify Payments' (developed by Stripe) and popular third-party payment gateways.
If you're on one of Shopify's basic or regular plans, each transaction done through a third-party payment gateway will cost you an extra 2% fee.
WooCommerce
WooCommerce is the world's most popular online shopping platform for entrepreneurs built on WordPress. WooCommerce is an open-source tool, which means you retain complete control over your store's content and database.
To run your online store on WooCommerce, you need a WordPress website and hosting first.
Main WooCommerce features:
Free plugin
Fast setting up
Requires a bit of technical knowledge
WordPress integration
300+ free and paid extensions
1300+ themes
On-site SEO (run on WordPress)
Integration with marketing tools (Google Analytics)
Easy customization
WooCommerce pricing:
The WooCommerce core plugin is available for free.
Add-ons: $0 – $200
One of the advantages of WooCommerce is that it operates on a freemium basis, which means that the core plugin is free. However, as was previously said, WooCommerce is a WordPress plugin, and WordPress website and hosting will add to the price. There are a variety of add-ons that can extend the functionality of your online store. Some are free, and some paid.
To create an online store on WordPress, you should install and activate the WooCommerce plugin, then, open your online store, add products, and set additional settings to optimize your store.
WooCommerce payment methods
By default, WooCommerce accepts PayPal and Stripe payments. But, it also has add-ons that support all other popular payment service providers which you can use.
WooCommerce does not charge any commission on your store transactions, which is a significant benefit.
Which one should you choose?
Let's summarize them to help you narrow down the search for the best eCommerce platform.
First, for activities like establishing major site pages (about us, contact, privacy policy, etc.), displaying items, checking and fulfilling orders, both Shopify and WooCommerce offer an easy user interface. These installation processes are relatively seamless.
The most significant difference between the two is in site setup. WooCommerce is a WordPress plugin, which means you need a WordPress website that you have to purchase hosting for, install the WooCommerce plugin, and set up your store. Nevertheless, if you already have a WordPress website, installing WooCommerce will be a lot easier for you.
As already mentioned, WooCommerce is open source and gives you complete control over your website. It costs less to open an online store with WooCommerce with WooCommerce hosting companies.
In comparison to WooCommerce, Shopify is a self-hosted solution. It means you won't have to bother finding a web host, setting up a separate CMS, or integrating Shopify. Shopify is the easier option if you don't have any technical knowledge or start from scratch.
Shopify pros and cons
Self-hosted platform
Easy-to-use interface
Does not require technical knowledge to setup
Provides Technical Support 24/7
Payments may not be available in some regions
Extra commission for transactions done through a third-party payment gateway
Lack of support for some languages
WooCommerce pros and cons
It's open-source (Which means you have complete control over your resource, multiple opportunities for unlimited content management, code editing, and 100 % customization)
Flexibility
It's built on WordPress CMS, which is considered one of the best
High security (The plugin is protected from various vulnerabilities and threats)
Supports most languages
Does not provide technical support
Plugins and add-ons may be a bit pricey yet necessary
Now it's up to you to decide which platform is ideal for you!
Conclusion
We hope this article has helped you better grasp how to build a retail website from scratch.
Keep in mind, to build a successful eCommerce website, you will need a flexible and efficient CMS. You can easily match your needs to the WooCommerce and Shopify platforms considered above and choose the best one for creating your online functionality store.
If you already have a WordPress site and want assistance in developing an online business through WooCommerce, reach Aland Cloud. Our developers can provide hosting and create custom-built eCommerce websites according to your specific requirements.